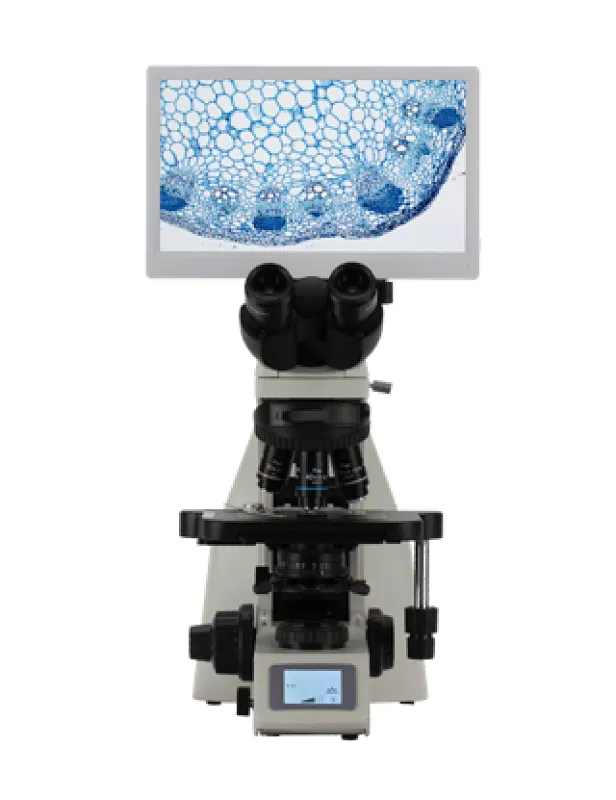 Advanced Research LCD Digital Biological Microscope
High-tech microscope for detailed research, equipped with an LCD screen and digital functionalities.
Advanced Research LCD D
i
gital Biological Microscope
Introduction
BLM2-274 LCD digital biological microscope is a research level microscope which has been specially designed for college education, medical and laboratory research. The microscope has a 6.0MP high sensitive camera and 11.6" 1080P full HD retina LCD screen. Both traditional eyepieces and an LCD screen can be used for convenient and comfortable viewing. The modular design allows for various viewing modes such as brightfield, darkfield, phase contrast, fluorescence and simple polarizing.
BLM2-274 can capture quick and easy snapshots, short videos and do measurement. It has integrated magnification, digital enlarge, imaging display, photo and video capture&storage on the SD card, it also can be connected to PC via USB2.0 cable and control by software.
Features
1.Excellent Optical Design.
(1)NIS60 infinite Optical System. NIS60 infinite plan objectives can provide high contrast and very flat image up to FN22mm, the system always brings you sharp, high resolution and high signal to noise ratio imaging.
(2)22mm Wide Field of View. The microscopes achieve the wide field of 22mm view with 10× eyepieces. The eyepiece adopts a flat field distortion-free design to prevent the edge of the field from being imaginary and stray light.
(3)Various Observation methods. Besides bright field observation, dark field, phase contrast, fluorescent and simple polarizing observation methods are optional.
(4)Multifunctional Universal Condenser. BLM2-274 microscope has adopted a universal condenser for bright field, dark field and phase contrast. The observation methods could be quickly switched by changing the dark field and phase contrast slider. The phase contrast and bright field slider is universal for 4×-100× objectives, simple and fast to use. The aperture diaphragm of the condenser is easily set to get exact value of diaphragm to correspond with different objectives.
(5)LED EPI-Fluorescent Illumination. The LED EPI-Fluorescent Illumination is safe and convenient. There is no need to warm up or cool down, and also no need to align the bulb. The life time of LED bulb is up to 5000 hours. There are two filters position available and switch is fast and easy.
2.Infinite Plan Objectives.
The BLM2-274 series microscopes have been fully optimized for various of microscopic applications, especially for beginners and the users with long time operation. The objectives provide high quality images and are easy to use.
(1)Plan Objective. With infinite plan objective, clear and flat image is over the entire field of view, image reproduction is better.
(2)100× Water-immersion Objective. Ordinary 100× oil-immersion objective needs to use cedar oil as the observation medium. After use, it needs to be cleaned with ether alcohol or xylene, which is easy to cause air pollution and improper cleaning. The water-immersion objective uses water as the medium, it is easy to clean, it also reduces the damage to the user's health and environmental pollution.
(3)40× LWD Objective. The working distance of 40× objective can be up to 1.5mm, avoiding the contamination from residual immersion oil or water when converted from 100× to 40× objective.
3.External rechargeable battery can be used as the power source.
A charging port is reserved on the back of the microscope, external rechargeable portable battery can be connected to this port and used as power source of the microscope. So this microscope can be used outdoor or during power outages.
4.Intelligent operating system.
(1)Coded Nosepiece.
The BLM2-274 LCD digital biological microscope can memorize the illumination brightness when using each objective. When the objective has been changed, the light intensity will be automatically adjusted to reduce visual fatigue and improve work efficiency.
(2)Use a dimming knob(on left of base) to achieve multiple functions.
One Click: Enter standby status
Double Clicks: Light lock or unlock
Rotation: Adjust brightness
Press + Up-spin: Switch to the upper light source
Press + Down-spin: Switch to the under light source
Press 3 seconds: Set the time of turning off the light after leaving
(3)The display of microscope working status.
The LCD in the front of the microscope base can display the working status of the microscope, including magnification, light intensity, sleepy model and so on.
5. Easier to store and transport.
The BLM-274 LCD digital biological microscope is compact and can be placed in an ordinary classroom closet. It has a special carrying handle, it is also light weight and stable. There is a cord rest on back of the microscope to store the long power cord, improve the cleanliness of the laboratory and reduce the tripping accident which may be caused by the long power cord during the carrying process. The wooden storage box is optional, it is very convenient for storage and carrying.
In daily scientific research teaching and pathological diagnosis, working in front of the microscope for a long time has become normal, this always leads to fatigue and physical discomfort, thereby reducing work efficiency. BLM2-274 series microscopes have adopted high eye-point, low-hand focus mechanism, low-hand stage and other ergonomic designs to ensure the user can perform microscope operation in the most comfortable situation. The focus knob, illumination control knob and stage handle are all proximal. The user can put both hands on the table while working, and can operate the microscope with minimal movement.
Application
BLM2-274 LCD Digital biological microscopes is an ideal instrument in biological, histological, pathological, bacteriology, immunizations and pharmacy field and can be widely used in medical and sanitary establishments, laboratories, institutes, academic laboratories, colleges and universities.
Specification
Item

Specification

RM1974

BLM2-274

Digital Parts

Camera Model

BLC-600 Plus

●

Sensor

Sony IMX307 CMOS Sensor

●

Photo Resolution

6.0 Mega Pixel (3264 × 1840)

●

Video Resolution

60fps@1920×1080

●

Sensor Size

1/2.8 Inches

●

Pixel Size

2.8um × 2.8um

●

LCD Screen

11.6 Inches HD LCD Screen, Resolution is 1920 × 1080

●

Data Output

USB2.0, HDMI

●

Storage

SD Card (8G)

●

Exposure time

0.001 sec ~ 10.0 sec

●

Exposure Mode

Automatic & Manual

●

White balance

Automatic

●

Packing Dimension

305

mm

×

205

mm

×

120

mm, 3kgs

●

Optical Parts

Optical System

Infinite Optical System

●

Eyepiece

Extra Wide Field Eyepiece EW10×/22mm

●

Wide Field Eyepiece WF15×/16mm

○

Wide Field Eyepiece WF20×/12mm

○

Viewing Head

Seidentopf

Trinocular Viewing Head, Inclined at 30°, 360° Rotatable, Interpupillary 47-78mm, Splitting ratio 5:5, Anti-Fungus, Tube Diameter 30mm

●

Objective

NIS60 Infinite Plan Achromatic Objective 4× (N.A.:0.10, W.D.:30mm)

●

NIS60 Infinite Plan Achromatic Objective 10× (N.A.:0.25, W.D.:10.2mm)

●

NIS60 Infinite Plan Achromatic Objective 40× (N.A.:0.65, W.D.:1.5mm)

●

NIS60 Infinite Plan Achromatic Objective 100× (Water, N.A.:1.10, W.D.:0.2mm)

●

NIS60 Infinite Plan Achromatic Objective 20× (N.A.:0.40, W.D.:4.0mm)

○

NIS60 Infinite Plan Achromatic Objective 60× (N.A.:0.80, W.D.:0.3mm)

○

NIS60 Infinite Plan Achromatic Objective 100× (Oil, N.A.:1.25, W.D.:0.3mm)

○

NIS60 Infinite Plan Phase Contrast Achromatic Objective 10×, 20×, 40×, 100×

○

NIS60 Infinite Plan Semi-APO Fluorescent Objectives 4×, 10×, 20×, 40×, 100×

○

Nosepiece

Backward Quintuple Nosepiece(Coding)

●

Stage

Rackless stage, Size 230×150mm, Moving Range 78×54mm

●

Condenser

Inserted Abbe Condenser NA1.25(Including Empty Plate)

●

Bright Field-Phase Contrast Plate (4x-100x Universal)

○

Bright Field-Dark Field Plate

○

Focusing

Coaxial coarse and fine adjustment, Coarse stroke 37.7mm per rotation, Fine stroke 0.2mm per rotation, Fine division 0.002mm, Moving range 30mm

●

Illumination

3W S-LED (LCD Display Magnification, Timing Sleep, Brightness Indication and Lock, etc.)

●

Fluorescent Attachment

3W LED, Two Filter Cubes (B, B1, G, U, V, R, Auramine O can be combined), Fly-eye Lens Illumination

●

Other Accessories

0.5× C-mount adapter

●

Simple Polarization Set

○

0.01mm stage micrometer

○

Filter

Green

●

Blue, Yellow, Red

○

Packing

1pc/carton, Carton size: 48cm*33cm*60cm, Net/Gross Weight: 10.5kg/12.5kg

●
Note: ●Standard Outfit, ○Optional