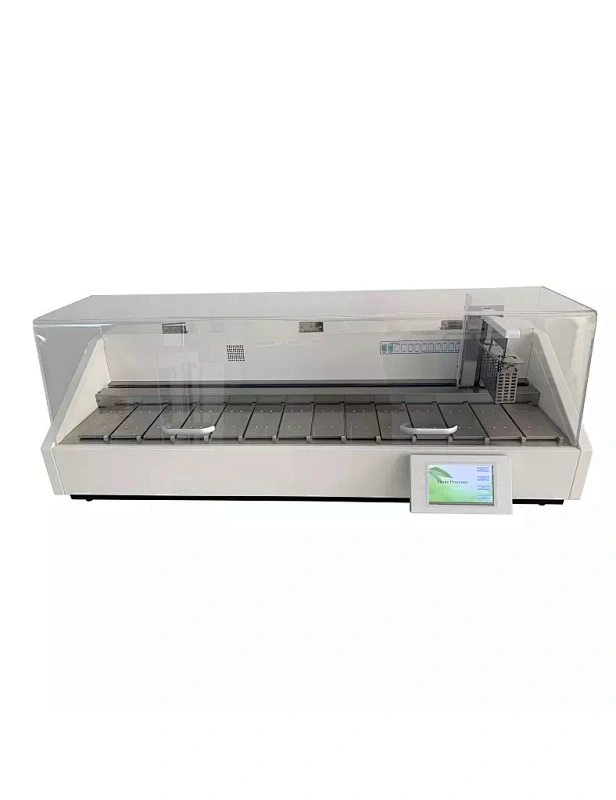 Automatic Tissue Processor
This automatic tissue processor utilizes advanced technology to provide reliable and efficient tissue processing, ensuring high-quality results and reduced processing times.
Automatic Tissue Processor
RH2418 is a bench-top linear closed tissue processor, a compact instrument designed with latest technology for complete automatic dehydration and infiltration of biological samples, up to final paraffin bath. Includes 14 stations for simultaneous processing of two samples baskets programmable separately. All the reagent and paraffin containers are closed to prevent evaporation. Ion filter prevent solvent odors and pollution. RH2418 can be programmed for immediate or delayed start, immersion time can be set from 1 minute to 99 hours and 59 minutes.
Specifications:
* Carousel type with 12 stations.
* Configurations:
Basic instrument
Vacuum function
Hood with active charcoal filter and fume exhaust fan(size:980*900*900mm)
* Option: two basket loading.
* Tissue baskets made of metal with varying capacities of up to 100 cassettes. (two basket loading is 200 cassettes)
* Tissue basket stirring 1 minute interval every 4 minutes inside the container.
* Battery backup 4 hours (except wax baths)
* Ergonomic control panel with foil-protected keyboard and LCD.
* Infiltration time separately programmable for each station.
* Easy editing and changing of programs, even during a processing run.
* Audible alarms, error messages and warning codes.
* Wax baths:
Number:2(3 optional)
Capacity:1.8L
Temperature range:45 ºC-85ºC
* Reagent containers:
Number:10(9)
Capacity:2.3L
Per station:99 h 59 min
Delayed start: 99 h 59 min
* Programs Number:8, freely selectable
* Vacuum device pressure, max.0.05MPa (approx. 0.5 bar)
* Standard tissue baskets:
Size: Φ120×100mm  and Φ120×80mm
Number:1(2 optional)
Capacity:max,100 cassettes
* Dry weight:80kg
* Product dimension:780mm*570mm*690mm
* Electrical specifications:
Nominal voltage:110/220V AC±10%
Nominal frequency:50/60Hz
Powe:800W