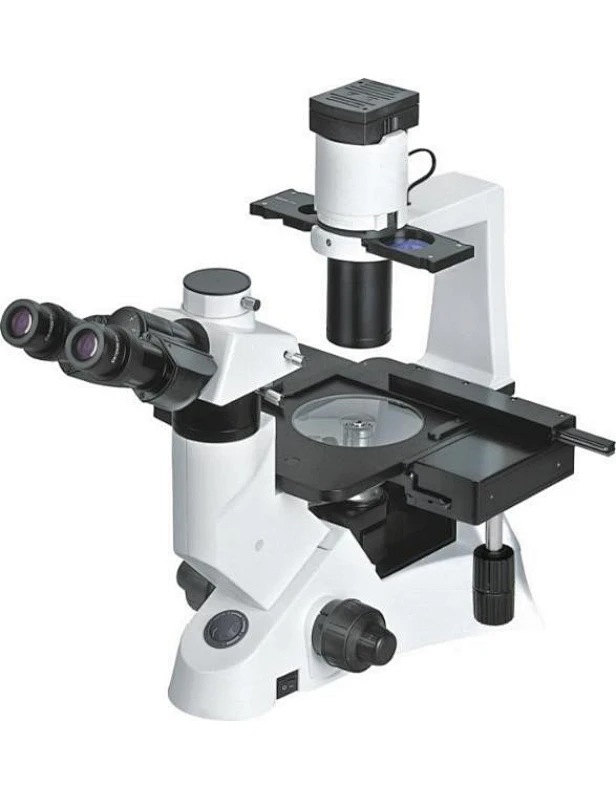 Classic Inverted Biological Microscope
High quality inverted microscope for observing biological cells and tissues with excellent image clarity and adjustable lighting.
Classic Inverted Biological Microscope





Introduction
BS-2090 Inverted Biological Microscope is a high level microscope which is specially designed for medical and health units, universities, research institutes to observe cultured living cells. With an innovative optical and structure design idea, excellent optical performance and easy to operate system, this inverted biological microscope makes your works enjoyable.
Features
1. Excellent optical function with infinite optical system.
2. Innovative stand structure, sharp image display, convenient and special for viewing incubating cell tissue.
With LWD Infinitive Plan Objective, Making Viewing Field Flatter and Brighter, Contrast Sharper, Living Cell Observing easier
Advanced and Reliable Mechanical Stage with Knob Height and Tightness Adjustable
Different Holders for Various Observations
With pre-centerable Phase Annulus, Available to Observe Low Contrast or Transparent Specimens
Application
BS-2090 Inverted microscope is used by medical and health units, universities, research institutes for observations of micro-organisms, cells, bacteria and tissue cultivation. It can be used for continuous observation of process of cells, bacteria grow and divide in the culture medium. Videos and images can be taken during the process. This microscope is widely used in cytology, parasitology, oncology, immunology, genetic engineering, industrial microbiology, botany and other fields.
Specification
Item

Specification

Optical System

Infinite Optical System

●

Viewing Head

Trinocular Head, Inclined at 30°, Interpupillary Distance 48-75mm

●

Eyepiece

High-point, Extra Wide Field Eyepiece EW10×/ 22mm

●

Objective

LWD(Long Working Distance) Infinite Plan Objective

4×/ 0.1, WD 17.3mm

●

10×/ 0.25, WD 10mm

○

20×/ 0.4, WD 5.1mm

○

40×/ 0.6, WD 2.1mm

●

Infinite Plan Phase Objective

PH10×/ 0.25, WD 10 mm

●

PH20×/ 0.4, WD 5.1mm

●

PH40×/ 0.6, WD 2.1m

○

Nosepiece

Quintuple Nosepiece

●

Condenser

ELWD(Extra Long Working Distance) Condenser NA 0.3, LWD 72mm (Without Condenser the WD can be 150mm)

●

Centering

Centering Telescope (Φ30mm)

○

Phase Annulus

10×-20×, 40× Phase Annulus Plate (Fixed)

●

10×-20×, 40× Phase Annulus Plate (Adjustable)

○

Stage

Plain Stage 160×250mm

●

Glass Insert

●

Attachable Mechanical Stage, X-Y Coaxial Control, Moving Rang 120mm×78mm

○

Auxiliary Stages 70mm×180mm

●

Terasaki Holder

○

Petri Dish Holder Φ35mm

○

Slide Glass Holder Φ54mm

○

Petri Dish Holder Φ90mm

○

Focusing

Coaxial Coarse and Fine Adjustment, Fine Division 0.002mm, Coarse Stroke 37.7mm per Rotation, Fine Stroke 0.2mm per Rotation, Moving Range up 8mm, down 3mm

●

Illumination

6V/30W Halogen Lamp

●

3W LED

○

Filter

Blue, Green and Frosted filters, Diameter 45mm

●

Accessories

Photo Adapter for Nikon and Canon DSLR cameras

○

Video Adapter 1× / 0.5× C-mount

○

Inverted Fluorescent Attachment FI-100

○

Package

1carton/set, 46.5cm*39.5cm*64cm, 16kg

●
Note: ● Standard Outfit, ○ Optional