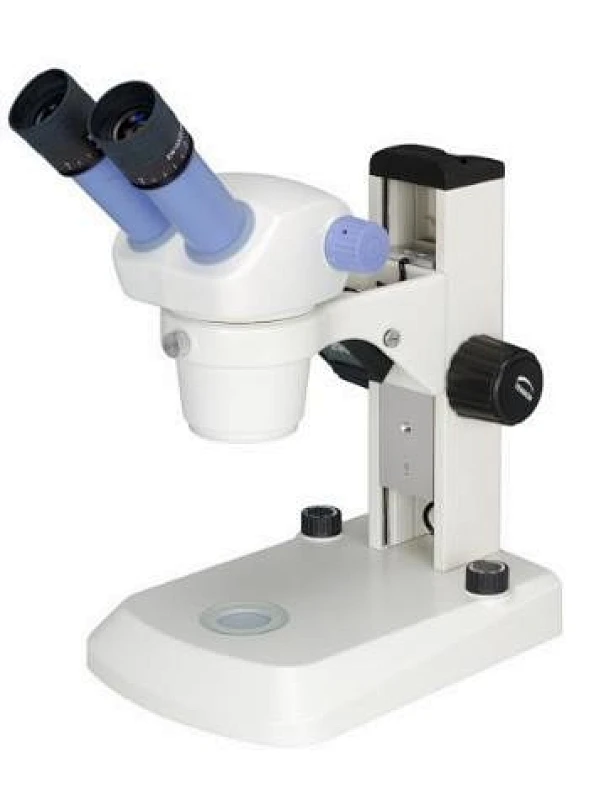 Popular Zoom Stereo Microscope 10×-45×
High-quality stereo microscope with 10x to 45x magnification, perfect for scientific and educational use.
Popular Zoom Stereo Microscope 10×-45×
Introduction
Stereo microscopes are also known as low magnification and dissecting microscopes. BS-3020 Stereo Zoom Microscope on a post stand offers upright, un-reversed 3D images that very clear throughout the zoom range. Optional eyepieces and auxiliary objectives expand magnification range and working distances.
BS-3020 is a very popular zoom stereo microscope. Optional cold light and ring light can be chosen for this microscope. You can also choose trinocular head to add digital camera with the appropriate camera adapter. In summary BS-3020 gives many range of magnifications, working distances, photo options, accessories and is very convenient to use – no wonder it is popular!
Feature
High quality, high function and excellent cost performance.

High resolution, Wide viewing field, Long working distance.
3. Ergonomic design, sharp image display, wide viewing field and easy to operate.
4. Providing a wide viewing field of Φ20mm with the zoom ratio of 1:4.5.
5. Ideal instrument in academic, medical and industrial field.
Application
The microscope can be used for circuit board repair and inspection, SMT work, electronics inspection, coin collecting, gemology and gemstone setting, engraving, repair and inspection of small parts.
Specification
Item

Specification

RM1320

BS-3020B

RM1321

BS-3020T

Viewing Head

Binocular head, inclined at 45°, Interpupilary Distance 55-75mm

●

Binocular head, inclined at 60°, Interpupilary Distance 55-75mm

○

○

Trinocular head, inclined at 45°, Interpupilary Distance, 55-75mm

●

Binocular head with 1.3MP digital camera, inclined at 45°, Interpupilary Distance 55-75mm, ScopeImage 9.0 software

Eyepiece

Wide field eyepiece 10×/ 20mm

●

●

Wide field eyepiece 15×/ 16mm

○

○

Wide field eyepiece 20×/ 12mm

○

○

Wide field eyepiece 30×/8mm

○

○

WF10× Eyepiece with cross line

○

○

Objective

Zoom objective

0.7×

~

3×

○

○

1×

~

4.5×

●

●

Auxiliary objective

2×, W.D.: 30mm

○

○

0.75×, W.D.: 120mm

○

○

0.63×, W.D.: 137mm

○

○

0.5×, W.D.: 180mm

○

○

Zoom Ratio

1:4.3

○

○

1:4.5

●

●

Working Distance

97mm

●

●

Focusing

Coarse Focus, Focusing Range 100mm

●

●

Illumination

Incident Illumination 100V-240V/ LED

●

●

Transmitted Illumination 100V-240V/ LED

●

●

Attachment

Photo Attachment (Used for connecting Nikon or Canon DSLR camera to the microscope)

○

○

Video Attachment (0.5× C-mount)

●

●

Package

1pc/carton, 36.5cm*31cm*52cm, 6kg

●

●
Note: ● Standard Outfit, ○ Optional