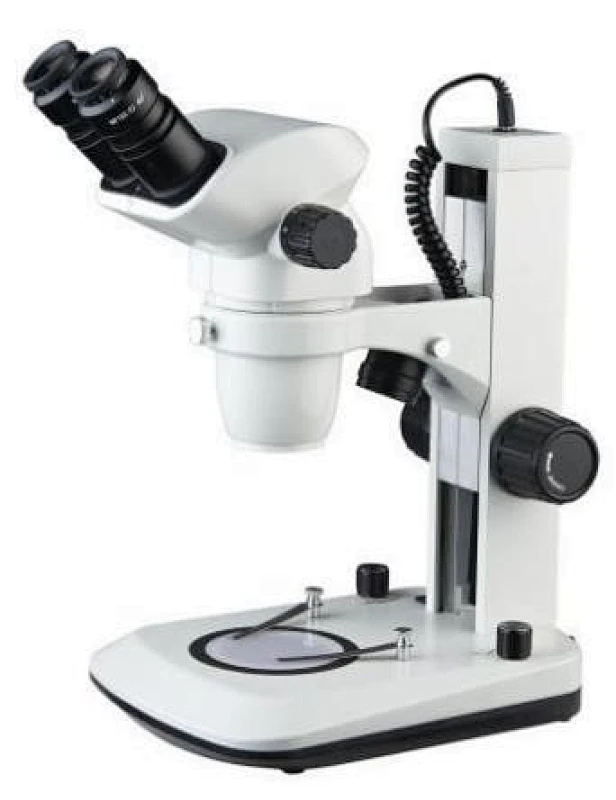 Excellent Cost Performance Zoom Stereo Microscope 6.7×-45×
High-quality stereo microscope with zoom functionality at a reasonable cost for various applications.
Excellent Cost Performance Zoom Stereo Microscope 6.7×-45×

Introduction
Stereo microscopes are also known as low magnification and dissecting microscopes. BS-3030 series Zoom Stereo Microscopes offer high quality 3D images throughout the zoom range. Optional eyepieces and auxiliary objectives expand magnification range and working distances. Various stand, Cold light source and ring light are optional for these microscopes.
Feature
1. High quality and excellent cost performance.
2. Ergonomic design, sharp image display, wide viewing field and easy to operate.
3. Providing a wide viewing field of Φ22mm with the zoom ratio of 1:6.7, zoom range: 0.67×-4.5×.
4. Transmitted & Reflected 3W LED Illumination are available for BS-3030B and BS-3030BT.
5. Ideal instrument in academic, medical and industrial field.
Application
BS-3030 series stereo microscopes are of great value in a variety of applications such as school education, circuit board repair, circuit board inspection, surface mount technology work, electronics inspection, coin collecting, gemology and gemstone setting, engraving, repair and inspection of small parts.
Specification
Item

Specification

RM1330

BS-3030B

RM1331

BS-3030BT

Optical system

Greenough Optical System

●

●

Viewing Head

Binocular head, inclined at 45°, rotatable 360°, Interpupillary Distance 54-75mm, diopter adjustment on both eyepieces

●

Trinocular head, inclined at 45°, rotatable 360°, Interpupillary Distance 54-75mm, diopter adjustment on both eyepieces

●

Eyepiece

WF10×/Φ22mm

●

●

WF15×/Φ16 mm

○

○

WF20×/Φ12 mm

○

○

WF25×/Φ9 mm

○

○

WF30×/Φ8 mm

○

○

WF10×Φ22mm Eyepiece with cross line(Eyepiece micrometer)

○

○

Objective

Zoom objective

0.67×-4.5×

●

●

Auxiliary objective

0.3×, W.D. 287mm

○

○

0.5×, W.D. 177mm

○

○

0.7×, W.D. 113mm

○

○

1.5×, W.D. 47mm

○

○

2×, W.D. 26mm

○

○

Zoom Ratio

1:6.7

●

●

Magnification

6.7×-45×

●

●

Working Distance

105mm

●

●

Focusing

Coarse focus knob with tension adjustable, moving range: 106mm. Focusing arm diameter: 76mm

●

●

Column Height

300mm

●

●

500mm (used with 0.3× and 0.5× auxiliary objective)

○

○

Microscope Base Size

205×275×22mm

205×275×40mm

●

●

Illumination

Reflected illumination: 5V 3W LED

●

●

Transmitted illumination: 5V 3W LED

●

●

Attachment

Photo Adapter (For Nikon, Canon, Olympus, Sony DSLR Cameras)

○

0.5× C-mount adapter (adjustable)

●

1× C-mount adapter

○

Package

1pc/carton, 51cm*37cm*31cm, Net weight: 5.5kg, Gross weight: 6.5kg

●

●
Note: ● Standard Outfit, ○ Optional