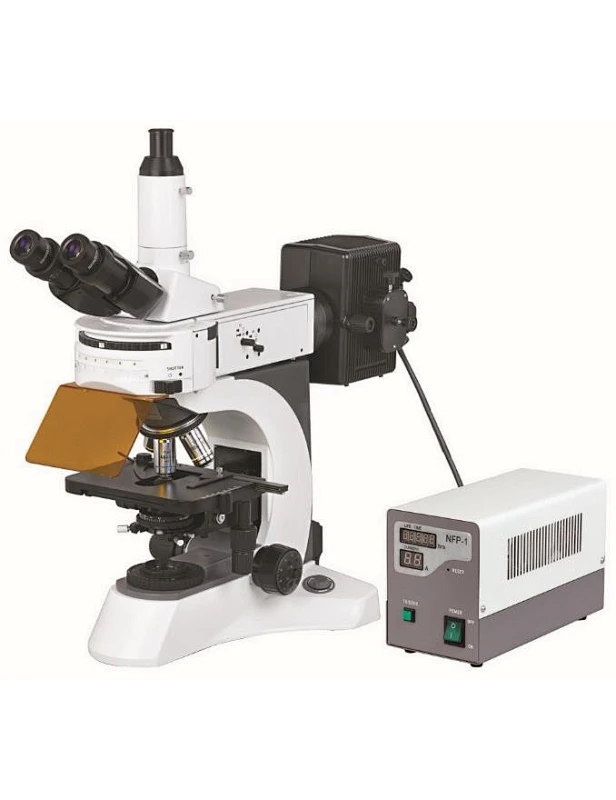 Classic Laboratory Upright Fluorescent Biological Microscope
A sturdy and reliable microscope with a range of features and lenses to suit all your needs.
Classic Laboratory Upright Fluorescent Biological Microscope





Introduction



BS-7000A fluorescence microscope is a laboratory fluorescent microscope with perfect infinite optical system. The microscope uses mercury lamp as the light source, the fluorescent attachment has 6 positions for filter blocks, which allows easy change of filter blocks for various fluorochrome.
Feature
Perfect image with infinite optical system.

High resolution fluorescent objectives are optional for excellent fluorescent images.

Advanced and precision lamp housing reduces the light leak.

Reliable power supply with digital display and timer.
Application
BS-7000A Fluorescence microscope is used to study the absorbing, transportation, chemicals distribution and positioning in cells. It is w
idely used in universities, hospitals and life science labs for disease examination, immune diagnosis and scientific research.
Specification
Item

Specification

RM1709

BS-7000A

Optical System

Infinite Optical System

●

Viewing Head

Seidentopf Trinocular Head, Inclined at 30°, Interpupillary Distance 48-75mm

●

Eyepiece

Extra Wide Field Eyepiece EW10×/22mm, Eyepiece tube diameter 30mm

●

Nosepiece

Backward Quintuple Nosepiece

●

Backward Sextuple Nosepiece

○

Objective

Infinite Plan Achromatic Objective

2×/0.05,            W.D.=18.3mm

○

4×/0.10,            W.D.=17.3mm

●

10×/0.25,           W.D.=10mm

●

20×/0.40,           W.D.=5.1mm

○

40×/0.65(S),        W.D.=0.54mm

●

60×/0.8(S),         W.D.=0.14mm

○

100×/1.25(S, Oil),    W.D.=0.13mm

●

Infinite Plan Fluorescent Objective

4×/0.13,            W.D.=16.3mm

○

10×/0.30,           W.D.=12.4mm

○

20×/0.50,           W.D.=1.5mm

○

40×/0.75(S),        W.D.=0.35mm

○

100×/1.3(S, Oil),     W.D.=0.13mm

○

Condenser

Swing Condenser NA 0.9/ 0.25

●

Focusing

Coaxial Coarse and Fine Adjustment, Fine Division 0.001mm, Coarse Stroke 37.7mm per Rotation, Fine Stroke 0.1mm per Rotation, Moving Range 24mm

●

Stage

Double Layers Mechanical Stage 185×142mm, Moving Range 75×55mm

●

Photo Adapter

Used to connect Nikon or Canon DLSR camera to the microscope

○

Video Adapter

1× or 0.5× C-mount adapter

○

Transmitted Kohler Illumination

External Illumination, Aspherical Collector with Kohler Illumination, Halogen Lamp 6V/30W, Brightness Adjustable

●

External Illumination, Aspherical Collector with Kohler Illumination, Halogen Lamp 24V/100W, Brightness Adjustable

○

3W LED Illumination, Brightness Adjustable

○

5W LED Illumination, Brightness Adjustable

○

Reflected Light Source

Excitation

Dichroic Mirror

Barrier Filter

Blue Excitation

BP460~490

DM500

BA520

●

Blue Excitation(B1)

BP460~495

DM505

BA510-550

○

Green Excitation

BP510~550

DM570

BA590

●

Ultraviolet Excitation

BP330~385

DM400

BA420

○

Violet Excitation

BP400~410

DM455

BA455

○

Red Excitation

BP620~650

DM660

BA670-750

○

Lamp

100W HBO Ultra Hi-voltage Spherical Mercury Lamp

●

Protection barrier

Barrier to Resist the Ultraviolet Light

●

Power Supplier

Power Supplier NFP-1, 220V/ 110V Voltage Interchangeable, Digital Display

●

Immersion Oil

Fluorescent Free Oil

●

Filter

Neutral ND25/ ND6 Filter

○

Centering Target

○
Note: ●Standard Outfit, ○Optional