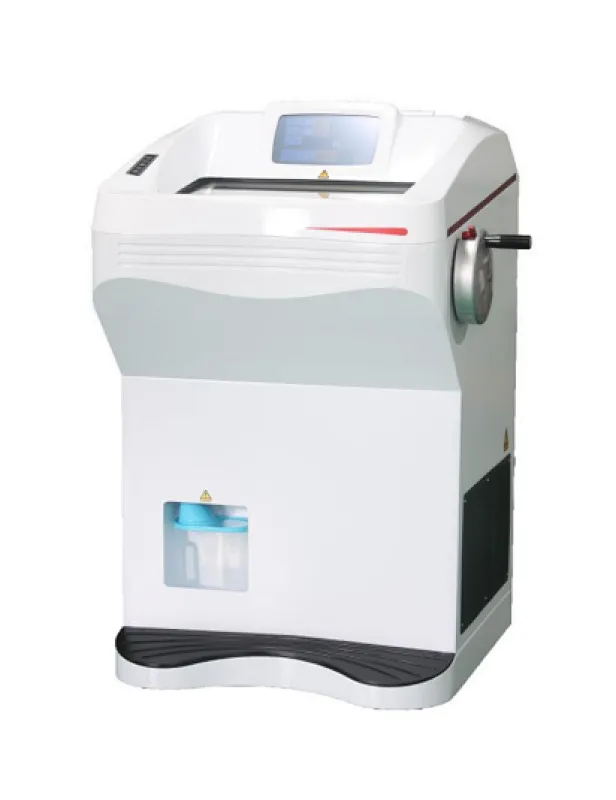 High Precision Cryostat
This cryostat is designed to offer high precision temperature control for laboratory experiments and research applications.
High Precision Cryostat
Newly Designed Cryostat To promote and support high quality tissue sectioning in pathology, dermatology, and histology labs, we have designed and created the RH4622 cryostat as a state-of-the-art freeze microtome. The RH4622 cryostat is a high precision microtome with dual compressors, UV light disinfection, LED touch screen control panel, and much more.
Features:
* Extra large freeze chamber has UV light sterilization, automatic defrost, and standby mode.
* LED touch screen control panel is large and easy to use. it show all information including thickness for section and trimming, retraction, temperature control, defrost control, time on / off and so on.
* Top of cryostat allows for easy storage and access to glass slides, stains, and tools.
* Smooth turning hand wheel with 360∘ locking mechanism.
* Double compressor system allows for fast freezing and robust lifespan of cryostat, and total 5 parts including chamber, blade holder, clamp, freezing shelf and smoothing board in freezing condition
* Waste collection for liquid condensate is safe and easily accessible.
* Specimen holder is easily adjustable and clamps to specimen disc for stability.
* Knife holder is fully adjustable with anti-rolling plate and blade guard. Anti-roll plate with knife guard
* One-Click to return specimen clamp to initial position automatically when clamp reach to limited position
* Molds shaped one-time, Germany accessory and high quality Teflon surface treatment
* Specimen retraction function, protects specimen from blade injury
* Trimming/Cutting button makes it easy to switch from trim and section mode
* Equip with counter to calculate total pieces and thickness.
* The low temperature refrigeration system with pro-environment refrigerant R404
* Temperature can drop to working condition in 40 minutes after switching on.
* Adopt to UVC sterilize for 35 minutes every time to optimize safety for cutting cryosections
* Peltier may be on or off manually.
* Heated, removable sliding window.
* Two defrost methods: definite time and manual, automatic defrost system built in, with cool air circulation that automatically starts to cool air circulating around the cutting specimen, knife, and anti-roll guide
* Fully encapsulated microtome for maintenance free reliability. The high-precision microtome is enclosed outside the cryostat chamber to protect it from thermal expansion and contraction and keep minimum service and maintenance.
* Self-explanatory symbols for all functions and displays, easy to learn and operate.
* Standby mode, after initializing, temperature in cryostat chamber can be controlled between -5℃ and -15℃ by computer automatically; when stop initializing, the temperature in freeze chamber will arrive to working temperature within 15 minutes
* Control panel with locking function to avoid wrong operation.
* With vacuum cleaner easy to clean the chamber
* Sensor self-diagnosis function, with an auto detected and alarm system for temperature sensor status
* Wide freezing shelf can put 36 specimens discs and including 8 stations with the Peltier fast-freeze mechanism (blue).
* Knife holder for both of low profile blade and high profile blade
 Specifications:
* Item No.RH4622
* freeze chamber temperature rage:0℃~-50℃
* Blade holder and clamp temperature rage:0℃~-50℃
* Cooling down time to -50℃:40 min
* Freeze shelf routine temperature:0℃~-50℃
* Lowest temperature of Peltier unit on freeze shelf:-60℃
* Peltier working time: 15 minutes
* Maximum specimen size:55mm×80mm
* Specimen vertical stroke:65mm (70mm is optional)
* Specimen horizontal stroke:22mm
* Coarse feeding speed: 0.9mm/s; 0.45mm/s
* X/Y-axis:12°, Z-axis:360°, the specimen holder has 360-degree specimen orientation
* Section thickness range:1-100μm 0.5μm~100μm adjustable: 0.5μm~5μm, in 0.5μm increment;5μm~20μm, in 1μm increments; 20μm~50μm, in 2μm increments; 50μm~100μm, in 5μm increments
* Trimming thickness range:0μm~600μm 0μm~600μm adjustable: 0μm~50μm, in 5μm increments; 50μm~100μm, in 10μm increments; 100μm~600μm, in 50μm increments;
* Retraction range: 0μm~60μm adjustable; in 2μm increment
* Voltage and frequency:AC220V±10% 50Hz (Standard) Special requirement may customize by order.
* Power:500W
* Weight:150kg
* Dimensions(W×D×H):700×760×1160mm