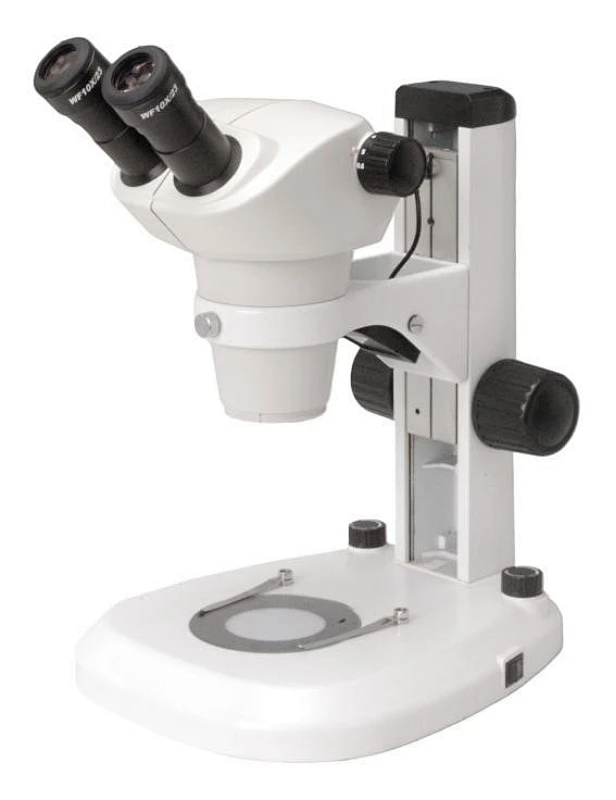 High Zoom Ratio Zoom Stereo Microscope 6×-50×
Zoom in on your work with ease using our high zoom ratio zoom stereo microscope, featuring a magnification range of 6x-50x and advanced optics for precision viewing.
High Zoom Ratio Stereo Microscope 6×-50×




Introduction
BS-3044A/B Binocular Zoom Stereo Microscope offer upright, un-reversed 3 D images that remain in focus throughout the zoom range. They have zoom ratio of 1:8.3. Optional eyepieces and auxiliary objectives can be used to expand magnification range and working distances.
Feature
1. High zoom ratio of 1:8.3, zoom range of 0.6×-5×, large field of view up to Φ76mm.
2. High quality optical system, providing sharp and high contrast image and ensure flat image at large depth of field, Ease the tiredness with ergonomic design.
3. With LED light for both incident and transmitted illumination, Providing even illumination and life expectancy can reach 60000 hours.
4. With complete eyepieces, objectives and accessories, it is an ideal instrument for industry assembling, inspection and teaching field.
Application
BS-3044A/B Binocular stereo zoom microscope can be used for circuit board repairing and inspection, surface mount technology work, electronics inspection, coin collecting, gemology and gemstone setting, engraving, repair and inspection of small parts.
Specification
Item

Specification

RM1344

BS-3044A

RM1345

BS-3044B

Viewing Head

Binocular Viewing Head, Inclined at 45°, Interpupillary Distance 55-75mm

●

●

Eyepiece

Extra wide field eyepiece WF10×/Φ23mm

●

●

WF15×/Φ16mm

○

○

WF20×/Φ12mm

○

○

WF30×/Φ9mm

○

○

Zoom Objective

0.6×-5×

●

●

Zoom Ratio

8.3:1

●

●

Working Distance

115mm

●

●

Auxiliary objective

0.5×, WD: 220mm

○

○

0.7×, WD: 125mm

○

○

2×,  WD: 45mm

○

○

Stage Plate

Glass Insert Plate, Diameter 100mm

●

 

Glass Insert Plate, Diameter 125mm

●

White&Black round plate, Diameter 100mm

●

White&Black round plate, Diameter 125mm

●

Focusing Unit

Coarse Focus Knob with tension adjustable, Moving range 105mm

●

●

Illumination

Incident Illumination 100V-240V/ LED

●

●

Transmitted Illumination 100V-240V/ LED

●

●

Video Adapter

30mm adapter ring for 23.2mm eyepiece adapter

○

○

0.45×/0.5× C-mount adapter

○

○

Photo Adapter

Photo Adapter for Nikon or Canon DSLR camera

○

○