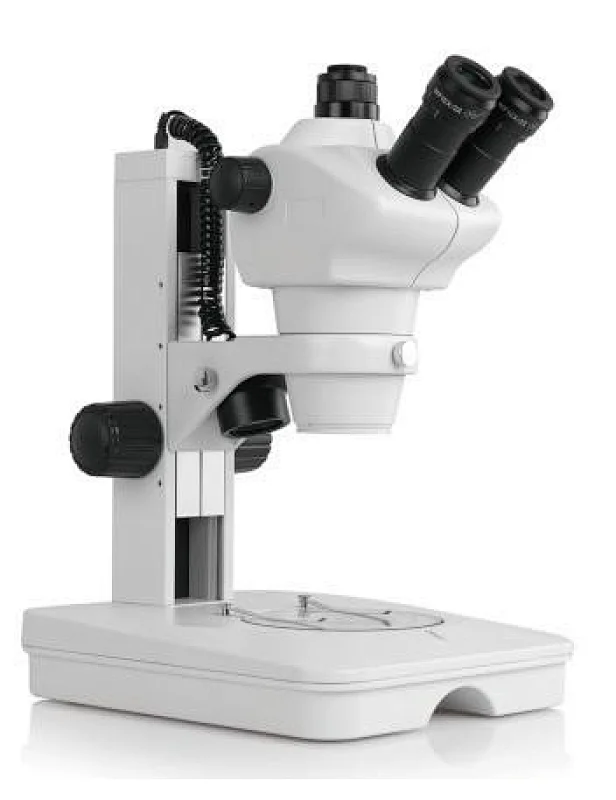 Excellent Cost Performance Zoom Stereo Microscope 8×-50×
Excellent Cost Performance Zoom Stereo Microscope 8×-50×





Introduction
BS-3035 series Zoom Stereo Microscope offer sharp 3 D images with very competitive price. Optional auxiliary objectives, light source, stands and other accessories can fulfill different requirements.
Feature
1. Well-coated optical components, providing sharp and high contrast images and ensure large depth of field.
2. High quality optical system with zoom magnification 8
×
-50
×
, zoom ratio 1:6.3.
3. Various eyepieces, objectives and other accessories can meet different requirements.
Application
BS-3035 series stereo zoom microscope is of great value in a variety of applications such as circuit board repair, circuit board inspection, surface mount technology work, electronics inspection, coin collecting, gemology and gemstone setting, engraving, repair and inspection of small parts.
Specification
Item

Specification

RM1335

BS-3035B4

RM1336

BS-3035T4

Viewing Head

Binocular Head, Inclined at 45°, Interpupillary Distance 52-75mm

●

○

Trinocular Head, Inclined at 45°, Interpupillary Distance 52-75mm, 30:70 light distribution

○

●

Eyepiece

Extra wide field eyepiece EW10×/22mm

●

●

WF15×/16mm

WF20×/12.5mm

Zoom Objective

0.8×-5×

●

●

Zoom Ratio

6.3:1

●

●

Working Distance

115mm

●

●

Auxiliary objective

2×, WD 45mm

○

○

0.5×, WD 210mm

Stage Plate

Frosted Glass Plate, Diameter 100mm

●

●

White&Black round plate, Diameter 100mm

●

●

Focusing Unit

Coarse Focus Knob with tension adjustable, Moving range 100mm

●

●

Illumination

Incident Illumination 100V-240V/ LED

●

●

Transmitted Illumination 100V-240V/ LED

●

●

Attachment

Photo Adapter (For Nikon, Canon, Olympus, Sony DSLR Cameras)

○

0.5X C-mount Adapter

●

Package

1pc/carton, 36.5cm*31cm*52cm, 8.5kg

●

●
Note: ● Standard Outfit, ○ Optional