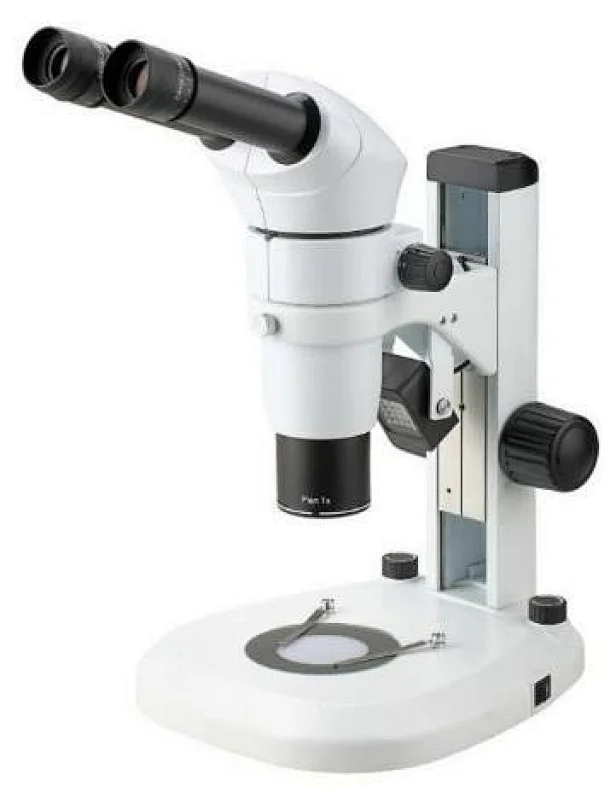 Parallel Optical System High Level Zoom Stereo Microscope
Parallel Optical System High Level Zoom Stereo Microscope



Introduction
Stereo microscopes are also known as low magnification and dissecting microscopes. BS-3060 Series Zoom Stereo Microscope with Infinity Parallel Optical System on a post stand offers upright, un-reversed 3-D images that remain in focus throughout the zoom range. Optional eyepieces and auxiliary objectives expand magnification range and working distances.
This is a high level stereo microscope. Optional cold light and ring light can be chosen for this microscope. You can also choose trinocular head to add digital camera with the appropriate camera adapter. In summary BS-3060 series Parallel Stereo Microscopes give the greatest range of magnifications, working distances, photo options, accessories and are the most convenient to use – no wonder they are popular!
Feature
1. Excellent Image Quality & Optical Performance with Infinity Parallel Optical System.
2. Comfortable Operation with Ergonomic Design Principle.
3. With LED light for both incident and transmitted illumination, Providing even illumination and life expectancy can reach 6000 hours.
4. A Wide Range of Accessories to be Equipped with the Microscope for Multi-purpose. It is an Outstanding Assistant in Industrial, Medical and Scientific Research Areas.
Application
BS-3060 series stereo zoom microscopes with Infinity Parallel Optical System is of great value in a variety of applications such as Industrial, Medical and Scientific Research Areas, circuit board repair, circuit board inspection, surface mount technology work, electronics inspection, coin collecting, gemology and gemstone setting, engraving, and repair and inspection of small parts.
Specification
Item

Specification

RM1360

BS-3060A

RM1362

BS-3060B

RM1364

BS-3060C

Optical System

Infinite Parallel Zoom Optical System

●

●

●

Viewing Head

Binocular Head, 20°Inclination, Interpupilary Distance 55-75mm

●

●

●

Tilting Binocular Eyepiece Tube, 5°-35° Inclined, Interpupilary Distance 55-75mm

○

○

○

Eyepiece

EW10×/Φ22mm

●

●

●

EW10×/Φ24mm

○

○

○

WF15×/Φ16mm

○

○

○

WF20×/Φ12mm

○

○

○

WF30×/Φ8mm

○

○

○

Zoom Objective

0.8×-5×

●

0.8×-6.4×

●

0.8×-8×

●

Objective

Plan Achromatic Objective 1×, W.D.: 78mm

●

●

●

Achromatic Objective 0.3×, W.D.: 276mm 

○

○

○

Achromatic Objective 0.5×, W.D.: 195mm

○

○

○

Plan Apochromatic Objective 0.5×, W.D.: 126mm 

○

○

○

Plan Achromatic Objective 2×, W.D.: 32.5mm 

○

○

○

Zoom Ratio

1: 6

●

1: 8

●

1: 10

●

Focusing Unit

Coarse Focus Knob with tension adjustable, Moving range 105mm

●

●

○

Coaxial Coarse & Fine Focus Knob with tension adjustable, Moving range 105mm

○

○

●

Illumination

Transmission & Reflection LED Illumination, Brightness Adjustable

●

●

●

Optional Accessories

Coaxial Illumination

○

○

○

Epi-Fluorescent Attachment

○

○

○

Dark Field Attachment

○

○

○

Simple Polarization Set

○

○

○

Iris Diaphragm

○

○

○

Beam splitter (one port)

○

○

○

Beam splitter (two ports)

○

○

○

Photography & video attachment

○

○

○

Moveable Stage

○

○

○

Temperature controlled Stage

○

○

○

Universal Table Stand/Table Clamp Stand

○

○

○

Cold light illumination with dual light guide

○

○

○

LCD Attachment

○

○

○

Package

1pc/carton, 49cm*40cm*56cm, 9.5kg

●

●

●
Note: ● Standard Outfit, ○ Optional