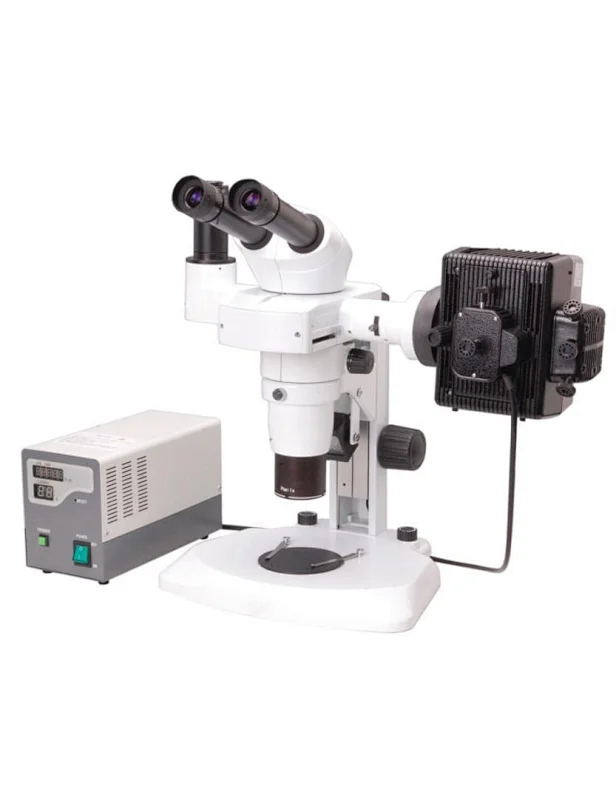 Parallel Optical System Fluorescent Stereo Microscope
Parallel Optical System Fluorescent Stereo Microscope





Introduction
BS-3060F series fluorescent stereo microscopes were designed
for
observation of liv
e
cell
s
. They cover wide magnification range from 2.4×~480×, and offer sophisticated accessories. This allows the scientist to see and photograph specimen
s
from macro views to high-magnification micro visualization. Photo tube comes with the microscope, CCD camera can be mounted on the photo tube for image capture and analysis.
Feature
1. Excellent Image Quality and Performance with Infinity Parallel Optical System.
2. High-eyepoint Eyepieces with Diopter Adjustment
makes comfortable viewing.
3. Wide Magnification range from 2.4×~480×, allows you to select the best magnification to match your application, extending from the macro to the micro range.
4. High quality Epi-fluorescence attachment allows easy observation of living cells under fluorescence
methods such as GFP. Switching between fluorescence and transmitted illumination is quick and easy.
5. CCD camera can be mounted on the photo tube. Because 100% of the light is delivered to the photo port, bright images are guaranteed.
6. A Wide Range of Accessories are available for Multi-purpose.
Application
BS-3060 series fluorescent stereo microscopes can be used in biology, life science, Forensic Science, Embryology/IVF, Lab-on-a-Chip, Palaeontology, Marine Biology, Regenerative Studies, Formulation Science, Veterinary areas and so on.
They provide great help for scientists.
Specification
Item

Specification

RM1736

BS-3060FA

RM1737

BS-3060FB

RM1738

BS-3060FC

Optical System

Infinite Parallel Zoom Optical System

●

●

●

Viewing Head

Binocular Head, 20°Inclination, Interpupilary Distance 55-75mm

●

●

●

Tilting Binocular Eyepiece Tube, 5°-35° Inclined, Interpupilary Distance 55-75mm

○

○

○

Eyepiece

EW10×/Φ22mm

●

●

●

EW10×/Φ24mm

○

○

○

WF15×/Φ16mm

○

○

○

WF20×/Φ12mm

○

○

○

WF30×/Φ8mm

○

○

○

Fluorescent Attachment

GFP-B(EX460-500,DM505,BA510-560)

●

●

●

GFP-L(EX460-500,DM505,BA510)

●

●

●

G(EX515-550, DM570, BA590)

○

○

○

Zoom Objective

0.8×-5×

●

0.8×-6.4×

●

0.8×-8×

●

Objective

Plan Achromatic Objective 1×, W.D.: 78mm

●

●

●

Achromatic Objective 0.3×, W.D.: 276mm  

○

○

○

Achromatic Objective 0.5×, W.D.: 195mm

○

○

○

Plan Apochromatic Objective 0.5×, W.D.: 126mm  

○

○

○

Plan Achromatic Objective 2×, W.D.: 32.5mm  

○

○

○

Zoom Ratio

1: 6

●

1: 8

●

1: 10

●

Focusing Range

105mm

●

●

●

Stand

Coaxial coarse focusing stand

●

●

Coaxial coarse&fine focusing stand

●

Illumination

Transmitted & Incident LED Illumination, Brightness Adjustable

●

●

●

100W Ultra hi-voltage spherical mercury lamp, power supplier with digital display

●

●

●
Note: ● Standard Outfit, ○ Optional