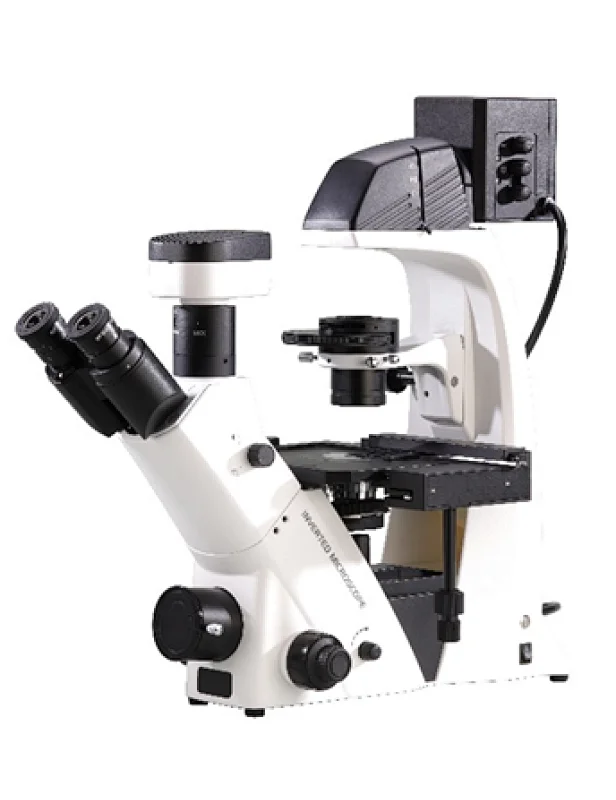 New Design High Level Inverted Biological microscope
New Design High Level Inverted Biological microscope
Introduction
This Inverted Biological Microscope is a high level microscope which is specially designed for medical and health units, universities, research institutes to observe cultured living cells. With an innovative infinite optical system and ergonomic design, it has excellent optical performance and easy to operate features. This inverted biological microscope makes your work enjoyable. Digital cameras can be added to the trinocular head to take photos, videos and make measurement.
Feature
1. Excellent infinite optical system, Wide field eyepiece, view field up to Φ22mm, perfect for cell observation and culture.
2. Brand-new design for life science research.
3. More objectives can be installed on the large diameter quintuple nosepiece, easier to change objective.
4. Both light ports for microscope digital camera and DSLR photography camera, available for observing with microscope digital camera and DSLR photography camera at the same time.
5. Light distribution (both): 100 : 0 (100% for eyepiece); 80 : 20 (80% for trinocular head and 20% for eyepiece).
6. Automatic infrared induction for power on-off. Power off upon user leaving 10 minutes, and power on upon user approaching.
7. Special light port for SLR digital camera, 7°inclined up to be more convenient to observe the image of the DSLR camera.
8. 12V/50W Kohler illumination makes the field more even and brighter.
9. 4-hole rotating disc phase contrast condenser as standard to change bright field and phase contrast easily.
10. Culture Dish Holders.
13. Knob of X-Y mechanical stage can be changed by left or right
14. Infinite plan 4X phase contrast objective is available.
Application
This Inverted microscope is used by medical and health units, universities, research institutes for observations of micro-organisms, cells, bacteria and tissue cultivation. It can be used for continuous observation of process of cells, bacteria grow and divide in the culture medium. Videos and images can be taken during the process. This microscope is widely used in cytology, parasitology, oncology, immunology, genetic engineering, industrial microbiology, botany and other fields.
Specification
Item

Specification

RM1293

BS-2093B

Optical System

Infinite Optical System

●

Viewing Head

Seidentopf Trinocular Head, Inclined at 45°, Interpupillary Distance 48-76mm, Light distribution (both): 100: 0 (100% for eyepiece), 80:20 (80% for trinocular head, and 20% for eyepiece), Eyepiece Tube Diameter 30mm 

●

Eyepiece

Wide Field Eyepiece WF10×/ 22mm

●

Wide Field Eyepiece WF15×/ 16mm

○

Wide Field Eyepiece WF20×/ 12mm

○

Objective

Long Working Distance Infinite Plan Achromatic Objective

4×/0.11, W.D.=12.1mm

●

10×/0.25, W.D.=8.3mm

○

20×/0.40, W.D.=7.2mm

○

40×/0.60, W.D.=3.4mm

○

Long Working Distance Infinite Plan Achromatic Phase Contrast Objective

4×/0.10, W.D.=9.2mm

○

10×/0.25, W.D.=8.3mm

●

20×/0.40, W.D.=7.2mm

●

40×/0.60, W.D.=3.4mm

●

Nosepiece

Backward Quintuple Nosepiece

●

Condenser

4-hole rotating disc phase contrast condenser, N.A.0.4, W.D.45mm, It can be adjusted up-down

●

Centering Telescope

Centering Telescope (Φ30mm)

●

Phase Annulus

10×, 20×, 40× Phase Annulus Plate

●

4× Phase Annulus Plate

○

Stage

Plain Stage 210(X)×240mm(Y), round slide plate: Φ110mm

●

Attachable Mechanical Stage, X-Y Coaxial Control, Moving Rang: 128mm×80mm

●

Petri Dish Holder Φ65mm

○

Petri Dish Holder Φ54mm

●

Petri Dish Holder Φ35mm

○

Blood cell counter Holder

○

Focusing

Coaxial Coarse and Fine Adjustment, Fine Division 0.002mm, Moving Range 10mm

●

Koehler Illumination

6V/50W Halogen Lamp, Brightness Adjustable, input voltage: 100V-240V

●

5W LED Lamp, Brightness Adjustable, input voltage: 100V-240V

○

Auto power on-off system

Power off automatically upon user leaving 10 minutes, power on automatically upon user approaching

●

Filter

Blue Filter, Diameter 32mm

●

Green Filter, Diameter 32mm

●

Amber/Grey Filter, Diameter 32mm

○

C-mount

0.5× C-mount Adapter (focus adjustable)

●

1× C-mount Adapter (focus adjustable)

○

0.75× C-mount Adapter (focus adjustable)

○

Adapter for DSLR Photography

100% light for Photography Port (Adapter for CANON or NIKON DSLR Digital Photography Camera)

●

Epi-Fluorescent Attachment

Epi-fluorescence attachment with 100W mercury lamp and B,G fluorescent filters, field diaphragm, center adjustable.

○

Epi-fluorescence attachment with 5W LED lamp and B,G fluorescent filters (input voltage: 100V-240V), field diaphragm, center adjustable.

○

V, UV fluorescent filters

○

Packing

1carton/set, Packing Size: 66cm×59cm×33cm, Gross Weight: 18kgs, Net Weight: 13.5kgs

●
Note: ● Standard Outfit, ○ Optional