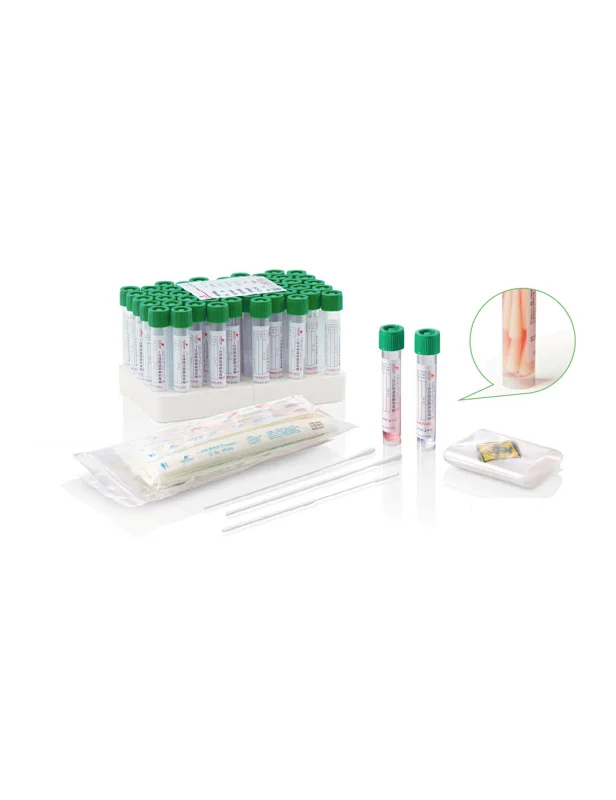 Virus Collection and Preservation System(10 person)Coronavirus VTM Collection Kit
Virus Collection and Preservation System(10 person)Coronavirus VTM Collection Kit

Introduction
10 swabs collected from 10 people were collected in one collection tube for nucleic acid detection. It is suitable for large-scale screening of asymptomatic COVID-19 infection, such as in schools, factories and urban areas. It has the advantages of efficient screening and resource saving.
Specification
  
Item No.

Components

Preservation Medium

Material

Tube

Packing size

KJ502B-10

1 pc Tube +10 pc Oropharyngeal Swab + 1pc Biohazard bag

Non-inactivated

Tube: PP 




Stick: ABS 




Tip: Nylon Flocked

Tube Size: Ø16×100mm




Tube Volume:10ml Medium Volume:6ml




Swab Size: 150mm

300 set/carton




Carton Size:




50*41*29cm




G.W.8KG




N.W.7KG

KJ502D-10

1 pc Tube +10 pcs Oropharyngeal Swab + 1pc Biohazard bag

Inactivated

Tube: PP 




Stick: ABS 




Tip: Nylon Flocked

Tube Size: Ø16×100mm




Tube Volume:10ml Medium Volume:6ml




Swab Size: 150mm

300 set/carton




Carton Size:




50*41*29cm




G.W.8KG




N.W.7KG
Component
Flocked swab
The flocked swab adopts innovative technology of nylon fiber spray implantation to maximize the sampling efficiency of the sampling swab. The nylon is adhered vertically and uniformly on the surface of swab tip, which can improve the efficiency of collecting and releasing cells and liquid samples. Improve analytical sensitivity, No specimen residual and can accelerate the specimen treatment. ABS sticker is easy to break off. Adapted to cervix uteri, nasopharynx, oral cavity, Forensic Acquisition System and DNA collecting etc. Individual packed.

*Higher sampling rate
*Faster and complete release of samples
*Enhance the sensitivity of diagnosis
*Breakpoint design for easy operation
Virus Storage Tube
Tube body and cap are made by medical grade Polypropylene, No deformation after HTHP (121°C, 15min), no embrittlement under low temperature (-196°C). it can bear static extrusion and dynamicimpact. Taper bottom design makes it bear centrifugation and shaking. Leakage proof. Available with non-pyrogenic and DNase/RNase-free.
Preservation Medium (Non-inactivated)
According to vast test of the influence to cells among Basic liquid, buffer system, protein stabilizer, freezing protective agent, amino acid, etc. We summarize a formula which is most applicable for the virus storage. It can keep a high efficiency for virus storage, and largely increase the positive rate of virus culture. Glass bead inside foreasy elution, it can make more microorganism such as virus release to the storage media.
* Upgraded preservation medium based on international standards has good bacteriostatic performance and efficient storage, which greatly improves the positive rate of virus isolation.

Preservation Medium (Inactivated)
The products include virus lysates and nucleic acid preservation solutions, and mixing it with virus samples to inactivated virus and maintain the integrity of virus nucleic acids at room temperature for 7 days. The collected viral RNA samples can be widely used in gene detection, such as PCR and high-throughput sequencing.

* Uniuqe media fromulation to inactivates viruses and reduces laboratory infection risk.
* Preserved nucleic acids of inactivated virus samples for up to 7 days at room temperature (Cold chain transportation is not necessary).
* Reduce false negatives results (Avoid RAN degradation, without affecting PCR system).
* Extraction-free inactivated type is also available (Preservation solution can be directly used as a template for RT-PCR).

Biohazard bag
The sampling tube containing virus samples will be stored and transported in the biohazard bag to ensure the safety of medical examination.
How to use