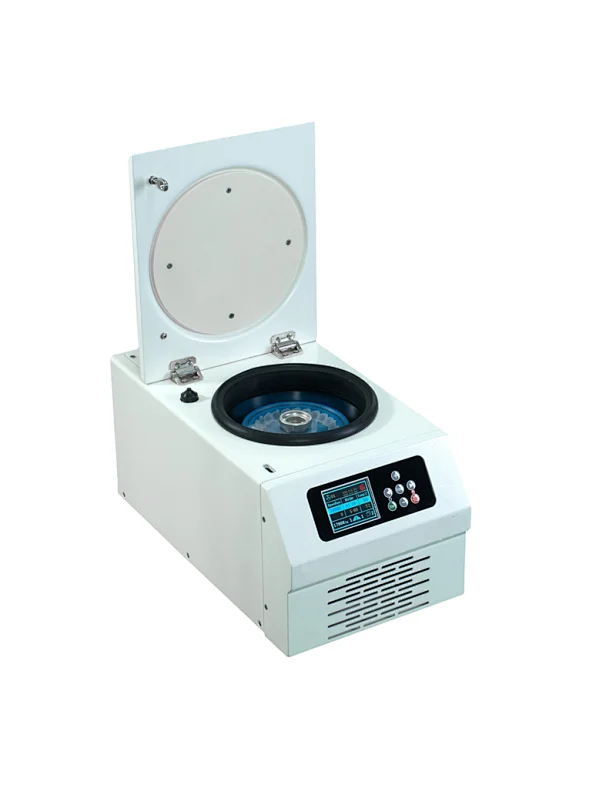 RCHC116R Table High Speed Refrigerated Centrifuge Desktop Refrigerated Centrifuges
RCHC116R Table High Speed Refrigerated Centrifuge Desktop Refrigerated Centrifuges

RCHC116R table high speed
refrigerated
centrifuge is widely used in clinical medicine, biochemistry, genetic engineering, immunology, etc. It is an indispensable instrument for centrifugation at all levels of hospitals, research institutes, and universities.
Features:
* Small size with LCD display, great space saver for the lab.
* Steel structure, centrifuge chamber made of stainless steel.
* AC frequency variable motor drives, stably and quietly during operation.
* Parameters can be revised during operation without stopping.
* Automatic calculates and displays RCF at the same time.
* 10 level speed control with 9 groups of program.
* Emergency lid safety lock.
* Imported energy-efficient ECO friendly refrigeration system.
Specifications:
Model

RCHC116R

Max RPM

16500rpm

Max RCF

18757×g

Max Capacity

12×5ml

Timer

1min~99min

Revolutions/min

±10r/min

Temp Range

-20

℃~

40

℃

Temp Accuracy

±1.0

℃

Voltage

 AC 220±22V 50/60Hz 10A

Power

550W

Noise  

≤ 60dB

Chamber Diameter

Φ160mm

Dimensions (L x W x H)

510×280×270

(mm)

Packaging Dimensions

610×380×370

(mm)

Net Weight

40kg
Rotor

No

Capacity

RPM/RCF

 




Angle Rotor

1

16×1.5/2.2ml

16500rpm/ 18360×g

2

12×5ml

15000rpm/ 15940×g

3

24×1.5/2.2ml

14000rpm/ 18757×g

4

4

×

8

×

0.2ml PCR

13500rpm/ 11610×g