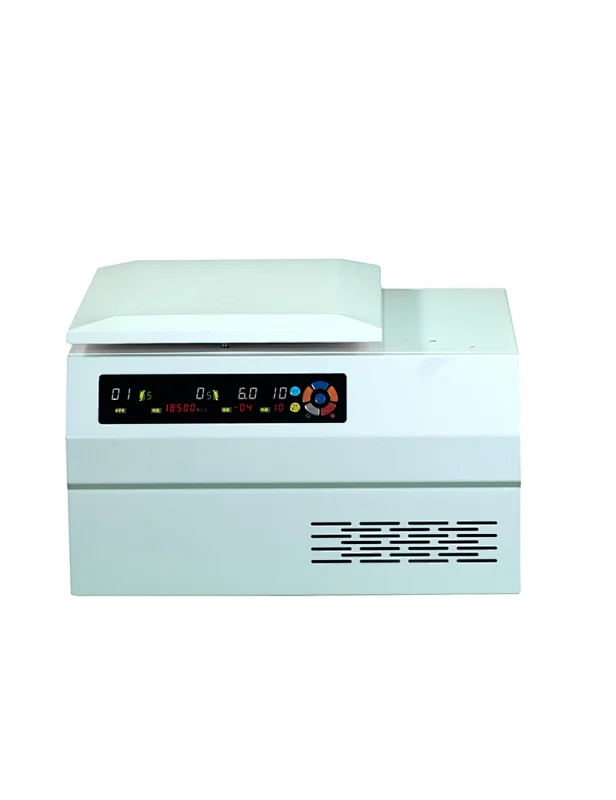 RCHC318R Table High Speed Refrigerated Centrifuge High Speed Centrifuge
RCHC318R Table High Speed Refrigerated Centrifuge High Speed Centrifuge

RCHC318R table high spe
ed refrigerated cent
rifuge
is widely used in clinical medicine, biochemistry, genetic engineering, immunology and etc. It is an indispensable instrument for centrifugation at hospitals, research institutes and universities.
Features:
* High torque AC frequency conversion motor, free maintenance.
* Medium size and good compatibility with LED display.
* Automatic identification rotors and speed limit control.
* Acceleration/deceleration ,RPM , Speed and RCF can be customized based on request.
* Automatically calculate RCF , RPM and RCF switching freely.
* Up to 10 level accelerate and decelerate control.
* Over speed, over heat, unbalance protections with auto lid lock.
* Imported energy-efficient ECO friendly refrigeration system.
* One key pre-cooling function.
Specifications:
Model

RCHC318R

Max RPM

18500rpm

Max RCF

23900×g

Max Capacity

4×100ml

Timer

1min~99min

Revolutions/min

±10r/min

Temp Range

-20

℃~

40

℃

Temp Accuracy

±1.0

℃

Voltage

AC 220±22V 50Hz 15A

Power

800W

Noise  

≤ 60dB

Chamber Diameter

Φ280mm

Dimensions (L x W x H)

480×560×360

(mm)

Packaging Dimensions

640×660×470

(mm)

Net Weight

70kg
Rotor Type

No.

Capacity

RPM

(

r/min)

RCF(×g)







Angel Rotor

1

12×2.0ml

18500rpm

23900×g

2

18×0.5ml

16000rpm

16000×g

3

10×5ml

15000rpm

15940×g

4

24×2.0ml

14000rpm

18757×g

5

36×2.0ml

13000rpm

17288×g

6

12×10ml

13000rpm

17370×g

7

6×50ml/ Round type

12000rpm

15285×g

8

6×50ml/ Sharp&Round type

11000rpm

12840×g

9

12×15ml/ Sharp type

11000rpm

15710×g

10

4×100ml

10000rpm

15050×g