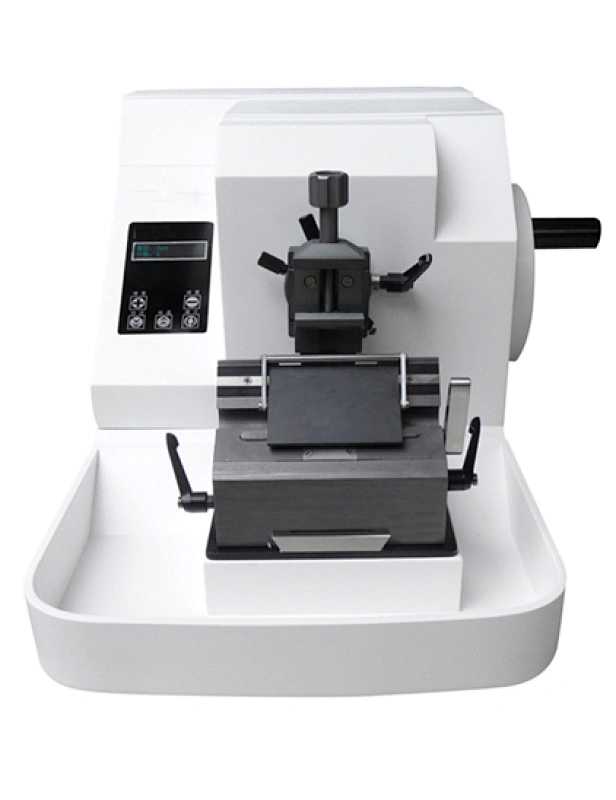 Semi Automatic Rotary Microtome
This microtome provides accurate and precise sectioning of biological tissues, with a user-friendly interface and ergonomic design.
Semi Automatic Rotary Microtome
This machine brings together the essence of our technology, adopts the international advanced design concept, more in line with ergonomic design, and the parts are mainly imported: stepper motor feeding system; high precision cross ball guide; circulating ball screw and other precision parts make the slicing precision higher. The slicer is a model of current advanced technology, a perfect combination of electronics and machinery, and another new development direction of tissue slicing science.
Features:
* Adopted Germany Stepper motor ensure slice more precisely, more reliable and quiet.
* Special Blade carrier can use both of High profile blade and Low profile blade
* The LCD screen shows slice and trimming thickness, section counter, keyboard with controls for thickness, mode and speed
* Special function of specimen retraction which avoid the damage due to the attrition between sample and the back of knife so that the sectioning is more smooth and the life of the knife is more longer.
* The hand wheel can be locked in any position to ensure the sectioning as safe and convenient as possible * The waste tray can be disassembled easily
* Sample orientation:8°along the X-Y-axis, rotate 360°
* Protection guard
* Safety alarm system, overload protection function, sleep mode protection
* Universal cassette clamp and standard specimen clamp
Specifications:
* Item No.RH4335
* Section thickness range: 0.5- 100μ m
Setting values:
From 0.5-2μm in 0.5μm –increments
From 2-10μm in 1μm –increments
Form 10-20μm in 2μm -increments
Form 20-50μm in 5μm -increments
Form 50-100 m in 10μm -increments  
* Trimming section thickness range:5-500μm (600μ m is optional)
From 5-10μm in 10μm –increments
From 10-100μm in 10μm –increments
Form 100-200μm in 20μm -increments
Form 200-500μm in 50μm -increments  
* Horizontal specimen stroke:20 mm (28mm is optional)
* Vertical specimen stroke: 60 mm (70mm optional)
* Specimen feed speed 1250/s (click), 2000μm/s (keep pressing)
* Specimen retraction :12μm
* Precision error: ± 5%
* Maximum section size: 50 × 45mm/55x55mm optional
* Dimension: 32 x 50 x 30cm
* Net weight: 30kg