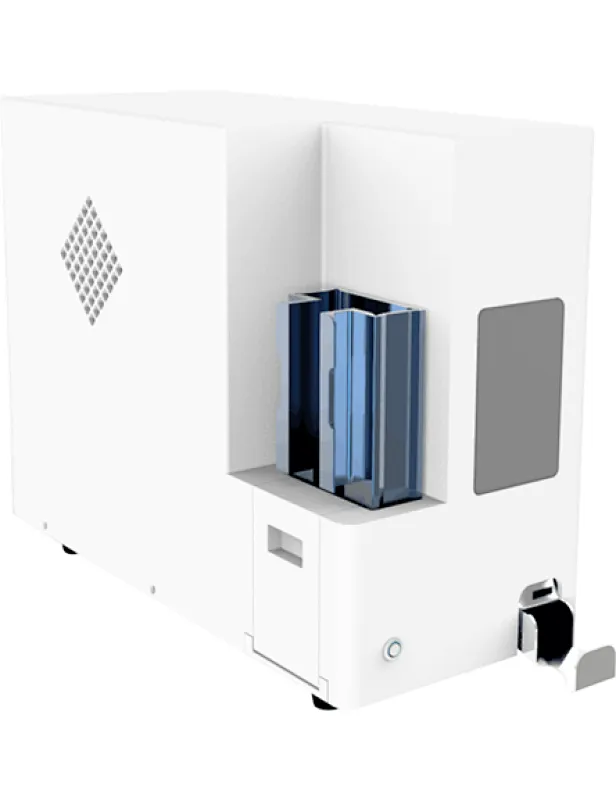 Slide Laser Printer
The Slide Laser Printer is a revolutionary printing device that offers fast and high-quality printing of slides, perfect for educational and medical professionals who require crisp and accurate images.
Features:
* Laser printing and easy for maintaining.         
* Capacity: 150 Slides             
* Print accuracy≥1250dpi clear printing content.          
* Print online or off-line.        
* Capability of linking with the management system of the pathology department.             
* The writing is clear and delicate, never wears out or fades, which meets the characteristic requirements of keeping slides for long-term reference.             
* No need for preheating, can be immediately used after starting up, safe and noiseless, and free of maintenance.            
* Bilingual in Chinese and English, simple and practical.        
* Support printing by QR code scanning, printing on demand.            
* Support Bar-code scanner inputting.
Specifications:
* Item No.RH8705
* Printing method: Slide Laser Printer 
* Average printing speed: ≤3S/slide     
* Printing accuracy: ≥1250pi  
* Maximum Capacity: ≥ 150 slides
* Minimum Capacity: ≥ 7 slides     
* Ambient Humidity: 45-85%, no condensation    
* Easy for maintaining: maintain without disassembling
* Dimensions: 465*200*361mm (Length*Width*Height)      
* Laser Power: Pulse laser≤2W     
* System interface: Integrate with LIS/HIS/P IS 
* Printing Methods: Print online or off-line
* Loading method: Cartridge clip type 
* External device: Support Bar-code scanner inputting   
* Consumable items: 25×75mm, 1-1.2mm glass slide