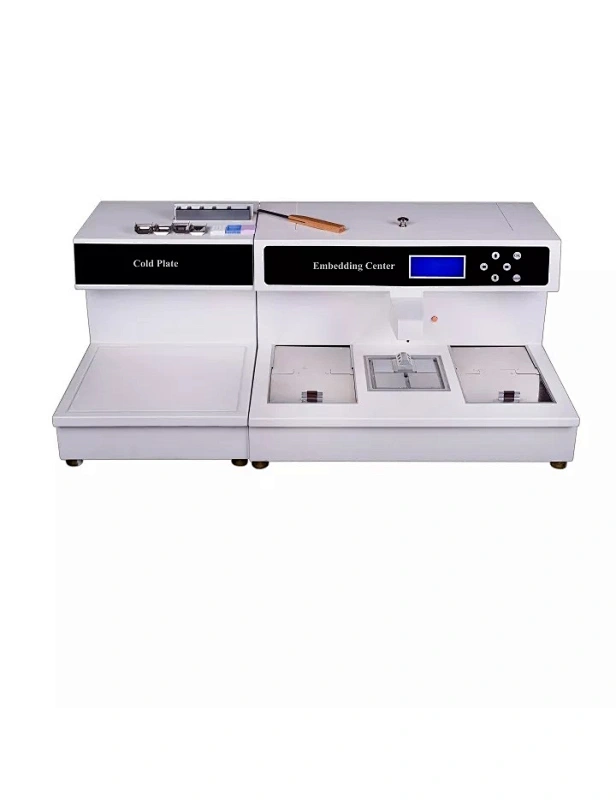 Tissue Embedding Center with Cold Plate
A professional and efficient solution for tissue embedding designed to enhance laboratory performance with its easy-to-use features.
Tissue Embedding Center with Cold Plate
Features:
* The newest high technology and Button Panel Control, new type of heating material.
* The machine is made up of embedding machine, freezing part. the design can be flexibly selected between embedding machine and freezing part.
* Automated processor control system make it possible for presetting the start time and temperature of any day.
* Special nano technical make it heat up quickly and equably.
* The LCD display can show you the temperatures of the paraffin bath, thermostatic bath and paraffin nozzle. So the user can operator it easily.
* Inductive head lamp and metal switch, user can touch the switch by tweezers or knifes to control the paraffin.
* Automatic memory the presetting temperatures and start to work based on the time.
* Large capacity paraffin bath can contain enough paraffin for use at one time.
* Multilevel security protection system.
* There are 3 heating holes for forceps in two side of the paraffin nozzle.
* Magnifying glass with lamp is optional accessory
* Collection drawer to collect paraffin from working table
Specification:
* Item No.RH3205
* Capacity of the paraffin bath: 6000 ml.
* Paraffin Bath/ hot reservoir /work stage/paraffin spout temperature range: 0 ~99℃ with individually temperature adjustable   
* Freezing range temperature: 0 ~ -20℃
* Complete machine consuming more electricity: Less than 1KVA
* Control mode: Auto, foot
* About 120pcs of molds or 140pcs cassettes for each hot reservoir
* Capacity of Cold plate: About 40-60 pcs of Tissue Mold
* Environment temperature: 0℃~ 40℃
* Time control: Switch on and switch off time of the machine is set in 24 hours optionally.
* Nominal voltage: AC110V-220V±10%
* Rated frequency:50Hz/60Hz
* Power consumption: (dispenser part)10A /1800W, (cold plate part)5A/ 130W
* Dimension: Embedding center (60x52x36.5cm), Cold plate (36x52x36.5cm)
* Gross /Net Weight: 110/65kg